My Two Surgeons
My Two Surgeons
So let me tell you about what I'm dealing with these days….
I had planned to write this entry for the last few days. I even have a couple of drafts that will likely never see the light of day. I wanted this to be a happy entry, a fun entry. Something exciting. Much wow.
I was hoping to be able to say that I've finally got a real date for my surgery. That I can sit back and relax and just check off days on the calendar. However, this is not that entry. Oh no, of course not. One door opens, and then a Trump-like villian builds an electrified Jurassic Park style 10,000 volt fence.
So, as you may recall…. I originally had picked Dr. Bowers. Because reasons. A myriad of reasons. However, with that reputation comes droves of dysphoric transgender women looking for new hoo-haas. So the wait has been an issue. I've been on the cancellation list trying to get a leg up on the situation. It had not happened. I started to get nervous and began to look at other options.
In October, I found a surgeon in Chicago by the name of Dr. Schechter. He seemed very competent, amazing resume, etc. I set up a consultation with him in early November. Post consult, they had submitted a request for a pre-determination to my insurance company. That's where things get weird.
I spoke with Dr. Bowers face-to-face later in November when she was in town for a banquet and I explained my unique situation. She seemed concerned and interested in helping me, so I immediately contacted her staff. Things looked good and the office manager said we needed to start in on insurance approval immediately. I hurriedly sent over all the paperwork and crossed my fingers for the best.
Not long after, I received notice from Dr. Schechter's staff that my claim had been denied. The reason was that I haven't met certain requirements today. However, we were attempting to schedule for after those requirements had been met. They would not schedule me without this approval. Unless, of course, I want to pay out of pocket.
I contacted Dr. Bowers' staff again and let them know of the situation. They advised me that I should attempt to appeal but that it would be 1-2 months… yes, MONTHS… before they could even get around to filing my insurance paper work. So I moved forward with the appeal.
I submitted the appeal on December 14th, assuming that Blue Cross Blue Shield would take the full 30 days to make a determination. So I sat on my hands and I waited. I didn't email any of the doctor's. I enjoyed the holidays and I tried not to think about it.
Last Monday, I got a letter in the mail saying that my appeal had been denied. From what I could tell, the insurance company totally ignored my letter altogether and doubled down on their original verbiage. That's point where I lost my collective shit. Remember "Ferris Bueller's Day Off?" That scene where Cameron looks down and sees the odometer on the Ferrari? Just like that, except without the hot tub later on.
As I have been known to do, I went to twitter and I started a (nearly) perfect (shit)storm.
.@BCBSIL denied my appeal. They really hate transgender people.

— what if i was wrong? (@DamnitAddie) January 5, 2016
Once again, gatekeepers are refusing me life saving health care. For my own good. To protect me. Doesn't save me from jumping off a bridge

— what if i was wrong? (@DamnitAddie) January 5, 2016
They say it's not "medically necessary" because I haven't had 1 year of hormone therapy. But I fucking will have. You pompous assholes.

— what if i was wrong? (@DamnitAddie) January 5, 2016
From there, things got weird. The next day, I decided that work was not in my best interest, what with my heightened mental status. So, having finally blown off some of the steam, I was going to try and just let it go. Maybe I would have to wait until March. I had some other ideas. But then there was a knock on the door. Who could that be?
Ok, so I earned that. 140 characters doesn't give me enough rope to truly hang myself. Wait, that's not right either. Umm.. I was trying to say people denied care are more likely to commit suicide. Not that I was going to kill myself. Simple misunderstanding.
After having an awkward conversation with the very nice police officer, I went back to Twitter and some friends and I bantered back and forth about the denial, the police and the "man."
But later that day, I got a phone call from Blue Cross. In a crazy turn of events, they reversed the denial. After a brief rush of euphoria, I emailed Dr. Bowers' office and let them know that I was approved for surgery and politely asking what the next step would be.
Despite a number of emails exchanged, the most informative answer I've gotten from Dr. Bowers' office is that that they'll work on it this week or next. This is even with a representative at the insurance company willing to personally process the claim. I have basically begged them for more information, but all I get are vague replies, days later.
So, I decided that maybe I just needed to give up on Bowers. Maybe it just wasn't meant to be. Schechter's office wanted a bunch of additional clarification from the insurance company, which the rep at BCBS agreed to do. She faxed them a special letter with the info they needed. I thought that at that point, I could get a date. So I emailed them on Monday and asked them what the status was. I waited until today (wednesday) to call them and see what was up. Now they're wanting additional info. They still won't schedule me. Well, she offered to schedule me if I would pay out of pocket.
I let the lady have it. I really just let it all go. I told her that I didn't feel like they really wanted my business. I felt like they were not putting enough effort forward to obtain their required documents from the insurance company. That I had done all the heavy lifting because once again, no one will advocate for me except me. She was unmoved by my plight.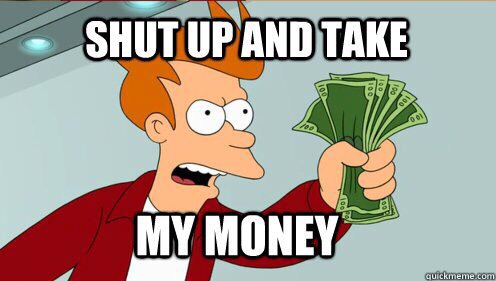 I contacted the rep at BCBS again and asked if she could help hand hold Dr. Schechter's office through whatever they needed. She said she would reach out and get back to me as soon as she had more info.
Meanwhile, by Christmas, I'm sure Bowers will find my file under the pile.
Edit: As my friends so eloquently explained, GRS/GCS is a seller's market. There's a ton of demand and only so many surgeons. I think this climate has led to the poor customer service that we're seeing. We are put on endless wait lists and we're meant to feel lucky when it's our turn. It's sad, because I don't think that's what the providers intended for when they started in this field.
In any event. for months, I've been walking on eggshells with both doctors. I know they don't need me like I need them. Writing all this might make it worse. I might never get a surgery at this point.
Update, 10:16 2016.01.14 – email from my insurance regarding Dr. Schechter's refusal to schedule me, still.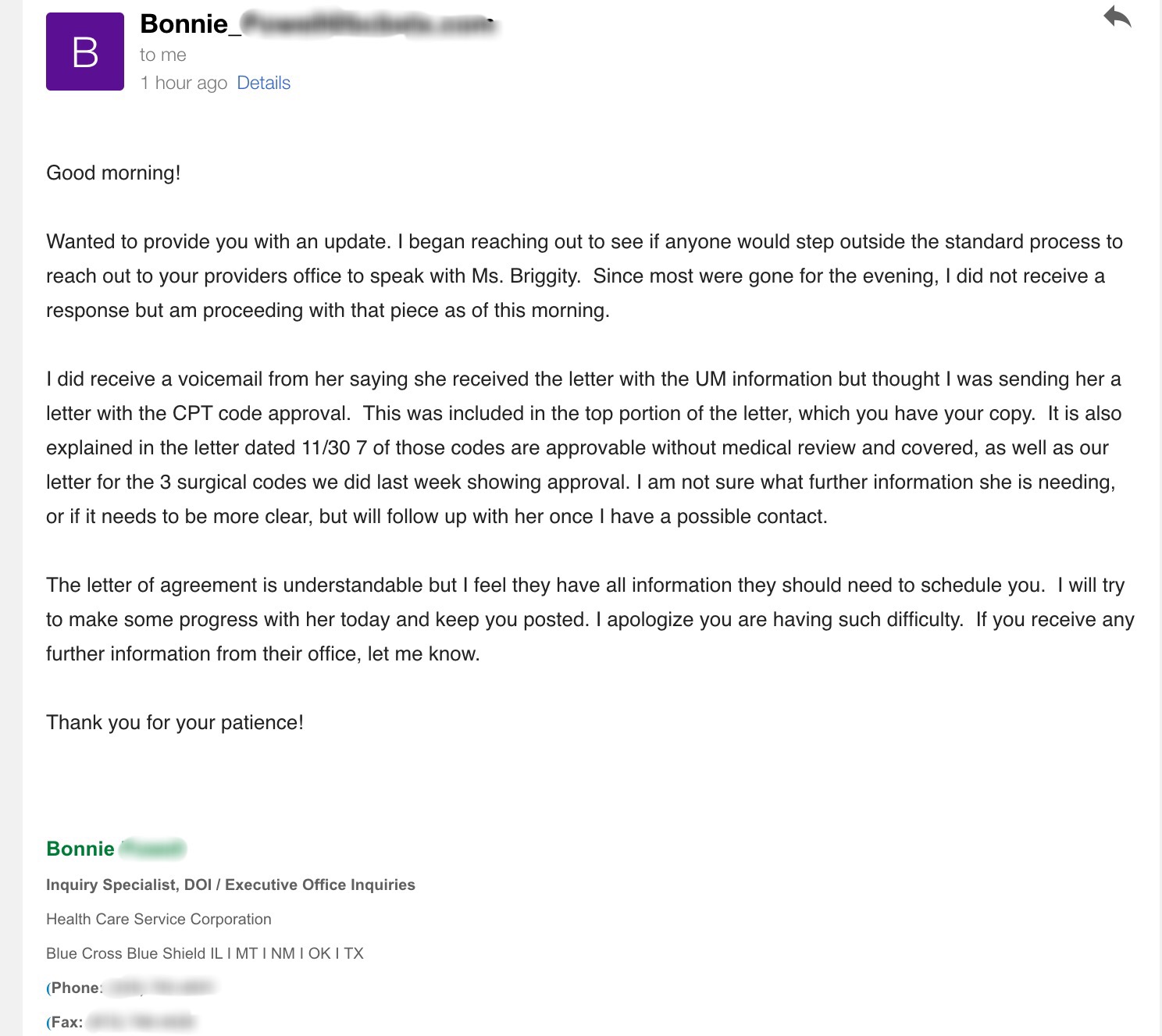 Comments
comments