Why would he do that?
Why would he do that?
So in the last week, let's see.. what's happened?
Most of the week was pretty standard. On Thursday, I went to visit Focus and get my hair and eyebrows done. These folks are awesome, and I'm in love with them. Let's just be honest.  Hair and Brow game on lock.
Friday night, I went out with Lee, Dustin and Jesse to Rubbie's in full fem. This is the first time that I've been out with them as Addison. It was nice to be out as myself. Nothing special to report in terms of that. I used the women's restroom without incident. Sadly, this is seems to be news worthy to me. My ability to pee in peace seems to be the most important part of an outing to me these days. Seems silly, but sadly true.
Saturday we had family pictures in Elizabethtown. These pictures were at the buttcrack of dawn. Well, 9am. Which means we left the house at 8am. Which means… yeah, we got up too early. I had basically promised Megan one last time in boy mode. For her own sake, for her memories. So, I put on my costume…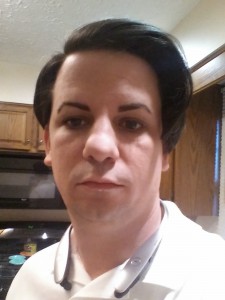 Pictures were fine, I love our photographer. She's really great. However, it felt really weird for me to jump back to being Sean after being Addison. It's hard for me, kind of sends me back in to a place of dysphoria.
After that, I dropped Megan and Grayson at church for the yearly easter egg hunt. After I dropped them off, I went to Best Buy and picked up a very expensive electric shaver. My mom suggested I might have better luck with electric. I bought the Braun 7 Series, which is the highest rated per Google and Amazon. It's terrible. If this is the pinnacle of electric shaving, we're all doomed.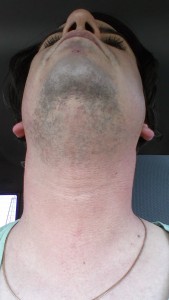 That's about an hour after I shaved. Mind you, this after 4 laser treatments. My regrowth is pretty slow. So… I think that shaver is going back.
So, that's Saturday. Aside from Kentucky losing.. not much to say. Oh, wait. I changed my name on Facebook from Sean to Addison. I'm facebook official!
Sunday, we went to church. My first time as Addison. First time in church wearing a dress. I did not burst into flames. There were some glances, I'm sure a comment or two, but no incidents. A number of hugs and handshakes. I avoided the restroom on purpose. I had to pee, but I really just didn't want to find out how "Barrier Free" they were.  When we left, I commented to Megan that I didn't burst into flames. We'll call that success.
Next came dinner at Grandma's. Still in the same outfit. The ladies were more supportive than the men. A couple compliments from the ladies. At best, the men ignored me. At worse, use of male pronouns and my birth name. Being referred to as "big guy" really gets the estrogen flowing. Ya, know? Whatever. It's a process… at least that's what I keep telling myself.
So, that brings us to today..
Today I had my first appointment with Dr. Poorkay. I had been looking for a replacement doctor after being treated fairly unprofessionally by Dr. Winters at U of L Physicians. I was pretty impressed with Dr. Poorkay. He seemed to be genuinely more interested in helping me get to what I'm trying to achieve.
He pretty much confirmed that Dr. Winters is either ignorant of the proper protocol for treating male to female transsexual clients or he's delaying our transition on purpose. I believe it to be the latter.
His comment was "Why would he do that?" when I explained that Dr. Winters refused to prescribe me Spironolactone. I couldn't answer that question. I explained that Dr. Winters told me that he believed that if he gave me an androgen antagonist that the body would up the testosterone production and cancel out the effects of the medication,.
Pretty much all of the available literature suggests that just Estradiol (estrogen) by itself will not do much, unless prescribed at fairly high doses. At my 1mg twice daily current regimen, I'm not likely to see much in the way of female puberty.
Unfortunately, despite having all my records from Dr. Winters blood tests, Pookay still wanted to do some additional testing. Winters did not test my estrogen or progesterone levels, only my testosterone. So, we're doing blood work again. Due to how busy this practice is, it'll be a week before we get results back from the lab.
I have a follow-up appointment with Poorkay for the 21st, at which point, I'm expecting him to raise my dosage of Estradiol and add Spironolactone along with some sort of Progesterone.   He says I won't get the breast development that I'm looking for without the progesterone.
Based on his interest on my own goals, I think I'm going to be happier with Dr. Poorkay than I have been with Dr. Winters. I'm unhappy with the 2 week delay on getting started with the correct regimen, but it's better than the 7 weeks I had with Winters… only to get less than half of what I expected.  The two weeks is actually not that big of a deal, it's more that I've been working on getting to this point since December.. which means that if I get scripts on the 21st, I will have invested nearly 5 months just to get HRT. So that's what's wrong with trans healthcare in the USA.
Comments
comments